UK-SA Digital Literacy for Development Training Project (Phase II)
Sun, 01 Aug 2021 with UK High Commission in South Africa, NCDev Ecosystem, Kinetix, Sibambiseni Group, Ghetto Tech Heroes, Mapitsi Foundation, MIHub, Wamgtech, Babes Got Bytes, Algorythm Tech
---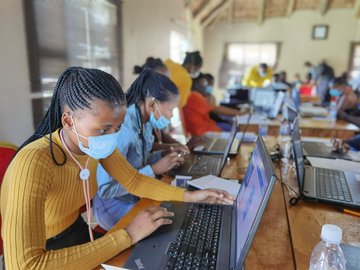 Based on learning and stakeholder recommendations from Phase I, the focus in Phase II (August 2020 to January 2021) was on building the capacity of local persons and actors with the capacity to enable and sustain the development of digital literacy abilities and agency within their communities. The initiatives comprising Phase II were:
Initiative 1: Development of coordinated local frameworks for local actors and stakeholders in digital literacy
Initiative 2: Support for local 'enablers' of digital literacy (e.g. managers of community computer centres) including publication of guidance/resources
Initiative 3: Development of a mobile-first platform mapping digital literacy support to help signpost users to relevant centres and programmes
Initiative 4: Context-based digital literacy training leading to users developing their own solutions to local needs and building the local digital ecosystem
The hypothesis for Phase II was that building local digital ecosystems will support end users in marginalised and under-served communities in South Africa to increase access to digital resources, digital skills and abilities, and training and capacity building will improve local actors' and users' agency in terms of harnessing digital tools and technologies for the achievement of development-related outcomes.
Read More