Prudence Lethole Graduates Top 15%
Written by Tiyani Nghonyama on Fri, 01 Apr 2022 07:46AM
---
Albert Eistein once said, "I never worry about the future, it comes soon enough". Our world grows smarter than we can keep up at times and this requires us to be prepared in terms of skills, capacility, past experiences and that guiding hand at time of need. South Africa is not immune to this change accordingly must prepare for tomorrow in a proactive and a developmental manner.
Then the likes of Prudence Lethole walks into the doors of Geekulcha, besides facing difficulties to find the office - became the first one to arrive, an hour early than expected. This was indeed to see a young mind getting find her place in the world of ICT and ready for awaits her. It was her first day of internship at Geekulcha.
Born and bred in Pretoria, Prudence Lethole studied Information Technology at the Tshwane University of Technology and specialised in the Software Development stream. She strives to be a key figure in the tech space with multiple apps under her name that will put her into magazine covers (like someone she knows). Prudence music and loves pets, especially her two dogs.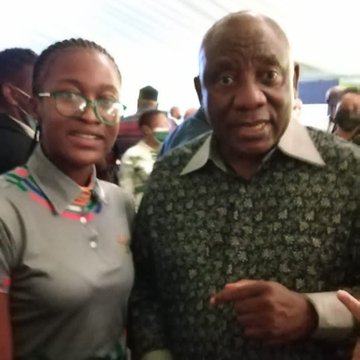 Prudence with President Ramaphosa, February 2022
At Geekulcha, Prudence has remained commited to learning and growing, thus it was easy to keep her as part of the team after her internship period ended. She has been part of the Software Development unit and has led the team for some time and worked on these projects:
Geekulcha DevPack to centralize locased resources for techies at events such as hackathons
Guest management system for the Presidential Golf Day Challenge
Geekulcha portals feature development 
Her tasks centre around Angular, Laravel and Flutter and she aims to fully master her craft onto other stacks too.
MASSIVE CONGRATULATIONS
Geekulcha congratulates Ms Prudence Lethole for her graduation on 01 April 2022 but mostly importantly, for being in Top 15% of achievers at the Tshwane University of Technology. Sithi halala and we look forward to being part of your growth much further. Keep munching the code, remain focused and strive for even more greatness.
---