Geekulcha Wins Special Ministerial Award At PSIAwards2021
Written by Tiyani Nghonyama on Sun, 27 Feb 2022 08:29AM
---
The 19th Public Sector Innovation Awards aimed at recognising innovators in all spheres of government and public entities were held at Birchwood Hotel, Boksburg east of Johannesburg on Friday, February 25, 2022. At this prestigius of innovators in the public sector, a range of government entities were represented from local government to provincial, to national government officials. It was opportunity to see the public sector innovation landscape and all the efforts being done accelerate service delivery.
Youth innovation took a spotlight with a Public Sector Innovation Hackathon being hosted on the sidelines of the awards, the Exective Mayor of Ekurhuleni Executive Mayor, Ald Tania Campbell highlighted a focus on youth programmes and, the City of Tshwane's university challenge was highlighted as one of the finalist.
Deputy Minister of Public Service and Administration, Dr Chana Pilane-Majake, gave a keynote address at the awards ahead of the announcement of winners. Upon concluding her speech, the Deputy Minister led the annoucement of the Special Ministerial Awards which recognised four projects including Geekulcha for its efforts and work on youth programmes.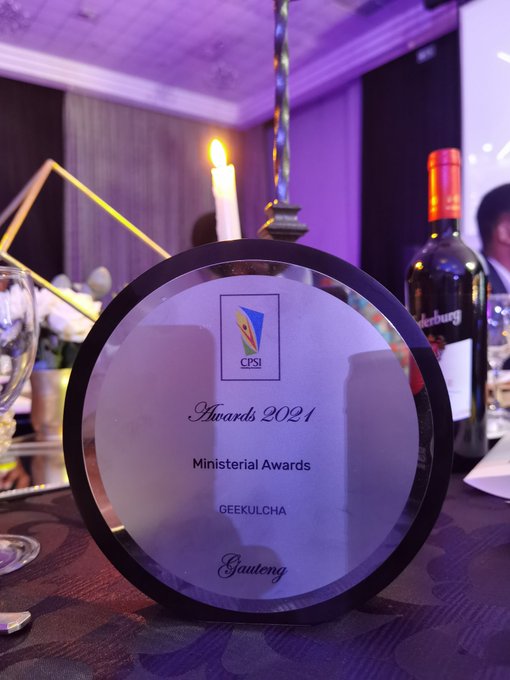 Accepted by its CEO Mixo Ngoveni and COO, Tiyani Nghonyama, Geekulcha dedicates this award to the crew, partners and most importantantly, the Geekulcha community around the world. The organisation put the winning prize money to youth programmes in marginalised communities with special focus on digital literacy, as well as data literacy.
More is still on the way as Geekulcha dedicates this year to getting back into the ground to build Efficient Capability onto the youth.
JOIN THE COMMUNITY: gklink.co/join
---